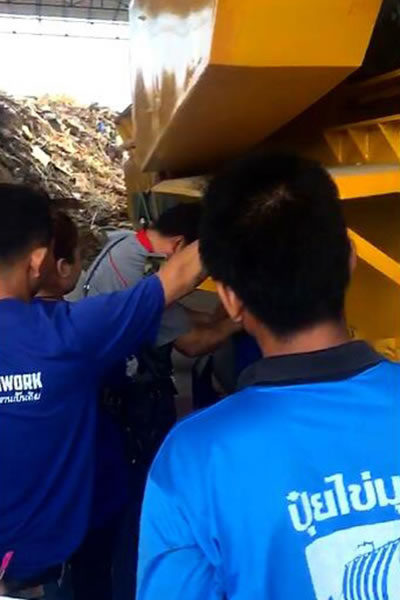 Customized Engineering
Because both raw materials for the machines, and machine usage vary from customer to customer, our engineers will customize machines for different markets. It is our goal to ensure customers receive the ideal product for their needs. Simplyprovide your requirements, and we'll take care of the rest, designing new machines based on actual requirements.
On-Site Support
No matter where in the world you are, we have technicians available to assist you in your facilities. We will send an engineer to assist in installation, debugging, training, repair and maintenance tasks.
They will:
1. Test run the machine before shipment.
2. Complete installation of the machine, ensuring a smooth start up at your location.
3. Teach operators how to use the machine, change worn parts, and do maintenance.
4. Test run the machine at your location, ensuring that you are satisfied with its performance.
5. Offer suggestions for improving the performance, if need be.
6. Repair the machine if/when a breakdown occurs.
Remote Service
We provide 24/7 technically support, even on holidays.
Support is offered via phone and/or email.
Customers are kept up to date regarding new technology and methods for upgrading machines purchased from us.
Spare Parts
When shipping the main machine, we also send one extra set of wear and tear parts. At Hongxin Machinery, we offer a wide array of durable and reliable replacement parts to ensure customers make maximum use of production time with less downtime. Parts are delivered quickly and efficiently.
Consultation
We are more than just machine manufacturers, and offer long-term partnerships for project development. We use our industry experience to help your business prepare, perform and grow. We also have the ability to carry out turnkey projects, and help customers every step of the way with their projects. From market research, to machine purchasing, to plant design, and marketing of final products, we are there to do our best to help you succeed with your projects.